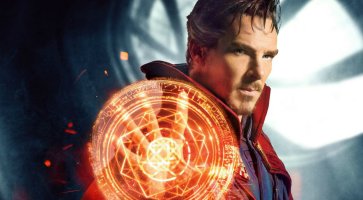 Doctor Strange: le prime reazioni sul web!
Secondo alcuni il film avrebbe "le migliori sequenze d'azione mai viste in un film Marvel".
Poche ore fa si è tenuta la prima proiezione stampa di Doctor Strange a Los Angeles e New York City. Per leggere le recensioni dovremo aspettare fino a domenica, ma nel frattempo la stampa americana si è riversata sui social per commentare a caldo la visione, naturalmente senza spoiler.
Leggi anche: L'invasione dei supereroi: Guida ai cinecomics di prossima uscita
Nei primi commenti sono tutti d'accordo nel sostenere che Doctor Strange è profondamente diverso dalle altre pellicole realizzate finora da Marvel. In molti hanno lodato gli spettacolari effetti visivi e alcuni parlano delle migliori sequenze action mai viste in un film Marvel. Grande entusiasmo anche per la colonna sonora di Michael Giacchino e per l'interpretazione di Benedict Cumberbatch. Tra i difetti del film sembrerebbero esservi una storia delle origini troppo formulaica e lo humor forzato e innaturale. Di seguito una compilation di commenti.
Doctor Strange's action set pieces make an MC Escher paintings look tame. Some really great, clever, incentive stuff. Worth the 3D ticket.

— Peter Sciretta (@slashfilm) 20 ottobre 2016
Cumberbatch owns Doctor Strange, the movie is funnier than I was expecting, a throwback to a pre-MCU Iron Man-like standalone story.

— Peter Sciretta (@slashfilm) 20 ottobre 2016
I saw Dr Strange. It is better than I could have ever hoped for. Among the very best Marvel films. It dazzles and entertains throughout.

— Jeff Cannata (@jeffcannata) 20 ottobre 2016
#DoctorStrange is definitely Marvel's strangest movie to date, but it's weird & wild in all the best ways. Incredible imagery, heady story

— ErikDavis (@ErikDavis) 20 ottobre 2016
The action sequences in #DoctorStrange are unlike anything Marvel's done. There are so ferociously loopy, frenetic & nerdy, I adore them.

— ErikDavis (@ErikDavis) 20 ottobre 2016
If #DoctorStrange has a weak spot, it's w/ its humor. Doesn't mesh as well as it does in other Marvel movies. But man is this sucker a ride!

— ErikDavis (@ErikDavis) 20 ottobre 2016
DOCTOR STRANGE is unlike any previous Marvel movie and that's why I love Marvel. They keep pushing boundaries and make it look easy.

— Steven Weintraub (@colliderfrosty) 20 ottobre 2016
DOCTOR STRANGE is guilty of *all* the usual Marvel movie problems, but Tilda & some VERY trippy visuals make it a spectacle worth savoring.

— david ehrlich (@davidehrlich) 20 ottobre 2016
also, DOCTOR STRANGE is something i never thought i'd see: a Marvel movie with a good original score. what a time to be alive.

— david ehrlich (@davidehrlich) 20 ottobre 2016
Our early review of #DoctorStrange early reviews... pic.twitter.com/A1fS06YeVY

— MovieGeekCast (@MovieGeekCast) 20 ottobre 2016
#review A scenario agreed, of course, but a Benedith Cumberbatch PERFECT in the role and effects of crazy! #DrStrange #DoctorStrange https://t.co/As3FfXGTht

— Anything Cumberbatch (@Anythingbatch) 19 ottobre 2016
Continua a seguirci su Facebook, Twitter, Instagram, Youtube, Google+ e Telegram per aggiornamenti, notizie, e curiosità su film e serie TV!