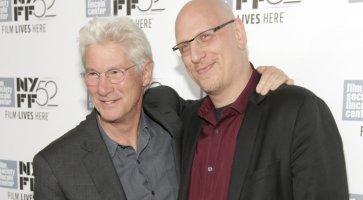 Berlino 2017: Aki Kaurismäki, Oren Moverman e Sally Potter in concorso
Moverman presenterà l'adattamento de 'La cena' di Herman Koch. In arrivo al festival le star Richard Gere, Laura Linney, Steve Coogan, Rebecca Hall, Penelope Cruz, Cillian Murphy e Bruno Ganz.
Svelati i primi 14 titoli del programma del 67° Berlin International Film Festival, che verranno presentati nelle sezioni Competizione e Berlinale Special. Dieci titoli punteranno a conquistare l'Orso d'Oro. I film provengono da Belgio, Cile, Repubblica Ceca, Danimarca, Finlandia, Francia, Germania, Regno Unito, Ungheria, Libano, Polonia, Portogallo, Romania, Senegal, Repubblica Slovacca, Spagna, Svezia e Stati Uniti.
Concorso internazionale
On Body and Soul, di Ildiko Enyedi, Ungheria - Prima mondiale
Ana, mon amour, di Călin Peter Netzer, Romania/Germania/Francia - Prima mondiale
Beuys (Documentario), di Andres Veiel, Germania - Prima mondiale
Colo, di Teresa Villaverde, Portogallo/Francia - Prima mondiale
The Dinner, di Oren Moverman, USA - Prima mondiale
Félicité, di Alain Gomis, Francia/Senegal/Belgio/Germania/Libano - Prima mondiale
The Party, di Sally Potter, Regno Unito - Prima mondiale
Spoor, di Agnieszka Holland, Polonia/Germania/Repubblica Ceca/Svezia/Repubblica Slovacca - Prima mondiale
The Other Side of Hope, di Aki Kaurismäki, Finlandia - Prima internazionale
Una Mujer Fantástica di Sebastian Lelio, Cile/Germania/USA/Spagna - Prima mondiale
Berlinale Special
The Queen of Spain, di Fernando Trueba, Spagna - Prima internazionale
The Young Karl Marx, di Raoul Peck, Francia/Germania/Belgio - Prima mondiale
Last Days in Havana, di Fernando Pérez, Cuba/Spagna - Prima europea
Berlinale Special at the Volksbühne
Eight Hours Don't Make a Day, di Rainer Werner Fassbinder, Federal Republic of Germany 1972 - serie TV in 5 episodi - Prima mondiale della versione restaurta
Continua a seguirci su Facebook, Twitter, Instagram, Youtube, Google+ e Telegram per aggiornamenti, notizie, e curiosità su film e serie TV!