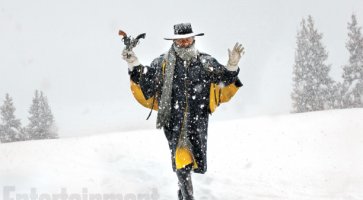 The Hateful Eight: al Comic-Con le prime scene in anteprima
Annunciata la data in cui si svolgerà l'atteso panel dedicato al film diretto da Quentin Tarantino.
Durante il Comic-Con di San Diego si svolgerà anche un panel dedicato a The Hateful Eight, il film diretto da Quentin Tarantino.
L'incontro si svolgerà sabato 11 luglio, alle 13.30, e saranno presenti il regista e i protagonisti del lungometraggio che, oltre a rispondere alle domande dei fan, presenteranno le prime sequenze in anteprima tratte dal lungometraggio che debutterà nei cinema americani il 25 dicembre in formato 70mm.
Fanno parte del cast, tra cacciatori di taglie e ricercati alle prese con una tormenta di neve, Samuel L. Jackson, Jennifer Jason Leigh, Kurt Russell, Walton Goggins, Demián Bichir, Tim Roth, Michael Madsen, eBruce Dern.