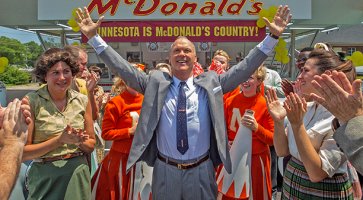 The Founder: il primo trailer del film con Michael Keaton
Il lungometraggio racconterà la nascita del marchio McDonald's e di come Ray Kroc l'abbia trasformato in un iconico brand.
The Weinstein Company ha diffuso il primo trailer di The Founder, che racconterà la nascita del famoso marchio di fast food McDonald's.
Il protagonista è l'attore Michael Keaton nel ruolo di Ray Kroc, l'uomo che trasformò, con la sua perseveranza e audacia, il locale californiano in un brand globale.
Nel cast Laura Dern, che interpreta la moglie di Ray Kroc, Ethel Fleming, Nick Offerman, Linda Cardellini, Patrick Wilson, B.J. Novak e John Carroll Lynch.
Leggi anche: Il caso Spotlight: intervista a Michael Keaton e Walter Robinson
La regia del film è di John Lee Hancock.