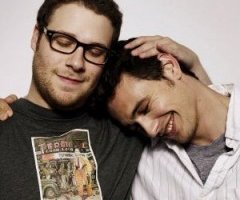 Seth Rogen e James Franco in The Interview
I due attori si caleranno nei panni di due conduttori televisivi alle prese con il tentato omicidio del presidente della Corea del Nord.
In attesa dell'arrivo in sala della commedia demenzial-apocalittica This is the End, il team formato da Seth Rogen ed Evan Goldberg si prepara a fare il bis. I due cineasti collaboreranno con _ Columbia Pictures_ per una nuova commedia intitolata The Interview che vedrà Rogen protagonista insieme all'amico James Franco. The Interview, basato su una storia ideata da Evan Goldberg, Seth Rogen e Dan Sterling, è incentrato su una coppia di conduttori e produttori di talk show che si ritrova coinvolta in un attentato ai danni del leader della Corea del Nord.
Seth Rogen, prossimamente al cinema nella road movie comedy The Guilt Trip, comparirà nella commedia di Nicholas Stoller Townies.