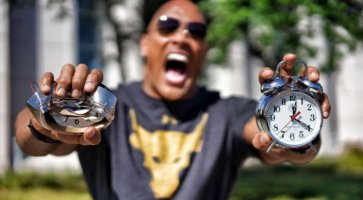 Rock Clock: Dwayne Johnson ti sveglia ogni mattina con una app!
Con la voce di The Rock ci sveglieremo per forza, in qualsiasi angolo del mondo si trovi il divo.
Problemi ad alzarsi al mattino? Niente paura. Ci pensa The Rock! La vulcanica star Dwayne Johnson, attualmente impegnata sul set di Baywatch, ha a cuore i propri fan e i loro appuntamenti così ha deciso di prestare la propria voce a una nuova app dell'iPhone chiamata Rock Clock.
Di cosa si tratta? Rock Clock è una sveglia che darà il buongiorno agli utenti con video messaggi registrati da The Rock. La app contiene l'opzione di poter sincronizzare la propria sveglia con quella di Dwayne Johnson (un po' rischioso, in termini di fuso orario), ma non contiene lo snooze. The Rock non crede nello snooze. Come proclama lui stesso su Instagram "Fuck the snooze button."