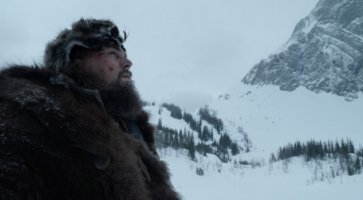 Revenant - Redivivo: le prime reazioni dei critici americani
I giornalisti americani hanno condiviso i loro commenti sull'atteso film con protagonista Leonardo DiCaprio.
I critici americani hanno avuto modo di vedere in anteprima l'atteso film Revenant - Redivivo, diretto da Alejandro González Iñárritu, con protagonista Leonardo DiCaprio.
Nonostante l'embargo fino al 4 dicembre, sui social media sono state condivise le prime opinioni sul lungometraggio e a quanto pare i giudizi non sono del tutto unanimi anche se la fotografia di Emmanuel Lubezki e l'interpretazione del protagonista sembrano aver convinto quasi tutti.
C'è chi lo definisce un lungometraggio "feroce, brutale, terribilmente ambizioso e sembra sia stato un inferno realizzarlo". Altri esperti lo paragonano a un western dalle sfumature epiche "ricco in stupore e metafisica alla Terrence Malick". Il regista di The Tree of Life viene citato più volte nei commenti a causa della presenza minima di dialoghi, voiceover sognanti, il fantastico lavoro compiuto da Lubezki e la colonna sonora di Ryuichi Sakamoto.
La sequenza dell'attacco del grizzly, inoltre, sembra essere particolarmente ben riuscita, tanto da causare incubi e grandissima tensione tra gli spettatori. Lodate anche le interpretazioni di DiCaprio e Tom Hardy, mentre qualche critico lo ha trovato "bellissimo ma banale" e poco coinvolgente, tanto da far pensare ad altro durante la visione.
Ecco qualche tweet:
THE REVENANT: