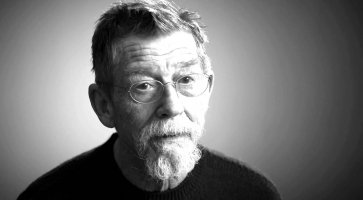 John Hurt: da Mel Brooks a J.K. Rowling l'ultimo saluto delle star sui social
La scomparsa dell'attore ha colpito molti personaggi di Hollywood e non, che hanno deciso di rendergli omaggio attraverso i canali social, da Elijah Wood a AXL Rose.
John Hurt, l'attore inglese celebre per ruoli memorabili e intensi come quello di John Merrick in The Elephant Man di David Lynch e di Max, prigioniero tossicodipendente in Fuga di mezzanotte di Alan Parker, per i quali ottenne due candidature agli Oscar, si è spento poche ore fa dopo una lunga battaglia contro un tumore al pancreas.
Guarda il video: In memoriam: l'ultimo saluto ai personaggi che ci hanno lasciato nel 2016 (VIDEO)
Molte personalità di Hollywood e dello spettacolo gli hanno reso omaggio attraverso i social network. Tra coloro che hanno dedicato un ultimo saluto al grande attore, la scrittrice di Harry Potter J.K. Rowling, Mel Brooks - con il quale Hurt girò La pazza storia del mondo e Balle Spaziali, Kiefer Sutherland, Chris Evans e Jamie Lee Curtis.
It was terribly sad today to learn of John Hurt's passing. He was a truly magnificent talent.

— Mel Brooks (@MelBrooks) 28 gennaio 2017
So very sad to hear that the immensely talented and deeply beloved John Hurt has died. My thoughts are with his family and friends.

— J.K. Rowling (@jk_rowling) 28 gennaio 2017
Oh no. What terrible news. We've lost #JohnHurt as great on the stage, small screen and big. A great man & great friend of Norfolk & #NCFC

— Stephen Fry (@stephenfry) 28 gennaio 2017
Very sad to hear of John Hurt's passing. It was such an honor to have watched you work, sir.

— Elijah Wood (@elijahwood) 28 gennaio 2017
My deepest sympathies to John Hurt's family, friends and fans. He was a dear friend.

— Kiefer Sutherland (@RealKiefer) 28 gennaio 2017
John Hurt was one of the most powerful, giving, and effortlessly real actors I've ever worked with. Remarkable human being. U will be missed

— Chris Evans (@ChrisEvans) 28 gennaio 2017
RIP John Hurt. Always great pic.twitter.com/rbPssFNVsy

— Viola Davis (@violadavis) 28 gennaio 2017
John Hurt. Midnight Express. Nothing better. Ever.

— Jamie Lee Curtis (@jamieleecurtis) 28 gennaio 2017
RIP John Hurt "Archibald u speak! One must never underestimate the healing power of hatred!" Montrose in Rob Roy

— Axl Rose (@axlrose) 28 gennaio 2017
Continua a seguirci su Facebook, Twitter, Instagram, Youtube, Google+ e Telegram per aggiornamenti, notizie, e curiosità su film e serie TV!