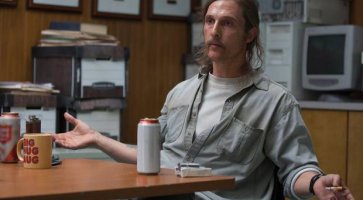 Emmy 2014: tutte le nominations
True Detective, Fargo, Breaking Bad, House of Cards e ancora le commedie Veep, The Big Bang Theory, Modern Family e la rivelazione Orange is the New Back. Ecco i candidati agli Emmy di quest'anno.
Una grande annata televisiva vede contrapporsi alcuni degli show che hanno conquistato il cuore degli spettatori. In primis True Detective che ha raccolto la sfida più ardua accettando di candidarsi come serie tv drammatica e non come miniserie, categoria in cui avrebbe avuto molta meno concorrenza. Lo show di Nic Pizzolatto centra le candidature come miglior serie drammatica, miglior regia (Cary Fukunaga), e la duplice nomination per il miglior attore protagonista andata a Matthew McConaughey e Woody Harrelson.
Nella pattuglia dei migliori attori in una miniserie o film tv spunta l'inglese Martin Freeman, protagonista di un'altra delle serie evento di questa stagione, l'acclamato Fargo. Al suo fianco il collega di set Billy Bob Thornton e la costar in Sherlock Benedict Cumberbatch, candidata per l'episodio della terza stagione The Last Vow. Se i proverbi corrispondono a verità il detto 'non c'è due senza tre' potrebbe portare il terzo Emmy consecutivo alla star di Homeland Claire Danes. Che diranno le agguerrite rivali Robin Wright, Julianna Margulies e soprattutto la docente di sesso Lizzy Caplan, acclamata dalla critica per Masters of Sex?
In nomination gli acclamati Breaking Bad, Il trono di spade e House of Cards nella categoria drammatica, Veep, Modern Family, Orange Is the New Black e The Big Bang Theory in quella comica.
Leggi anche: Emmy 2014, il nostro commento alle nomination
Di seguito l'elenco completo delle principali nomination.
Migliore serie drammatica
"Breaking Bad" (AMC)
"Downton Abbey" (PBS)
"Game of Thrones" (HBO)
"House of Cards" (Netflix)
"Mad Men" (AMC)
"True Detective" (HBO)
Migliore serie comica
"The Big Bang Theory" (CBS)
"Louie" (FX)
"Modern Family" (ABC)
"Orange is the New Black" (Netflix)
"Silicon Valley" (HBO)
"Veep" (HBO)
Miniserie
"American Horror Story: Coven" (FX)
"Bonnie and Clyde" (A&E)
"Fargo" (FX)
"Luther" (BBC America)
"Treme" (HBO)
"The White Queen" (BBC America)
Film TV
"Killing Kennedy" (National Geographic)
"Muhammad Ali's Greatest Fight" (HBO)
"The Normal Heart" (HBO)
"Sherlock: His Last Vow" (BBC America)
"The Trip to Bountiful" (Lifetime)
Attore in una serie drammatica
Bryan Cranston ("Breaking Bad")
Jeff Daniels ("The Newsroom")
Jon Hamm ("Mad Men")
Woody Harrelson ("True Detective")
Matthew McConaughey ("True Detective")
Kevin Spacey ("House of Cards")
Attrice in una serie drammatica
Lizzy Caplan ("Masters of Sex")
Claire Danes ("Homeland")
Michelle Dockery ("Downton Abbey")
Julianna Margulies ("The Good Wife")
Kerry Washington ("Scandal")
Robin Wright ("House of Cards")
Attore in una serie comica
Louis C.K ("Louie")
Don Cheadle ("House of Lies")
Ricky Gervais ("Derek")
Matt LeBlanc ("Episodes")
William H. Macy ("Shameless")
Jim Parsons ("The Big Bang Theory")
Attrice in una serie comica
Lena Dunham ("Girls")
Edie Falco ("Nurse Jackie")
Julia Louis-Dreyfus ("Veep")
Melissa McCarthy ("Mike & Molly")
Amy Poehler ("Parks and Recreation")
Taylor Schilling ("Orange is the New Black")
Attore non protagonista in una serie drammatica
Aaron Paul ("Breaking Bad")
Jim Carter ("Downton Abbey")
Peter Dinklage ("Game of Thrones")
Mandy Patinkin ("Homeland")
Jon Voight ("Ray Donovan")
Josh Charles ("The Good Wife")
Attrice non protagonista in una serie drammatica
Anna Gunn ("Breaking Bad")
Maggie Smith ("Downton Abbey")
Joanne Froggatt ("Downton Abbey")
Lena Headey ("Game of Thrones")
Christina Hendricks ("Mad Men")
Christine Baranski ("The Good Wife")
Attore non protagonista in una serie comica
Andre Braugher ("Brooklyn Nine-Nine")
Adam Driver ("Girls")
Ty Burrell ("Modern Family")
Jesse Tyler Ferguson ("Modern Family")
Fred Armisen ("Portlandia")
Tony Hale ("Veep")
Attrice non protagonista in una serie comica
Julie Bowen ("Modern Family")
Allison Janney ("Mom")
Kate Mulgrew ("Orange Is The New Black")
Kate McKinnon ("Saturday Night Live")
Mayim Bialik ("The Big Bang Theory")
Anna Chlumsky ("Veep")
Attore non protagonista per una miniserie o film tv
Colin Hanks ("Fargo")
Jim Parsons ("The Normal Heart")
Joe Mantello ("The Normal Heart")
Alfred Molina ("The Normal Heart")
Matt Bomer ("The Normal Heart")
Martin Freeman ("Sherlock")
Attrice non protagonista per una miniserie o film tv
Frances Conroy ("American Horror Story: Coven")
Kathy Bates ("American Horror Story: Coven")
Angela Bassett ("American Horror Story: Coven")
Allison Tolman ("Fargo")
Ellen Byrstyn ("Flowers in the Attic")
Julia Roberts ("The Normal Heart")
Migliore Attore guest in una serie drammatica
Paul Giamatti ("Downton Abbey")
Dylan Baker ("The Good Wife")
Reg E. Cathey ("House of Cards")
Robert Morse ("Mad Men")
Beau Bridges ("Masters of Sex")
Joe Morton ("Scandal")
Migliore Attrice guest in una serie drammatica
Margo Martindal ("The Americans")
Diana Rigg ("Game of Thrones")
Kate Mara ("House of Cards")
Allison Janney ("Masters of Sex")
Jane Fonda ("The Newsroom")
Kate Burton ("Scandal")
Migliore Attore guest in una serie comica
Bob Newhart ("The Big Bang Theory")
Nathan Lane ("Modern Family")
Steve Buscemi ("Portlandia")
Jimmy Fallon ("Saturday Night Live")
Louis C.K. ("Saturday Night Live")
Gary Cole ("Veep")
Migliore Attrice guest in una serie comica
Natasha Lyonne ("Orange is the New Black")
Uzo Aduba ("Orange is the New Black")
Laverne Cox ("Orange is the New Black")
Tina Fey ("Saturday Night Live")
Melissa McCarthy ("Saturday Night Live")
Joan Cusack ("Shameless")