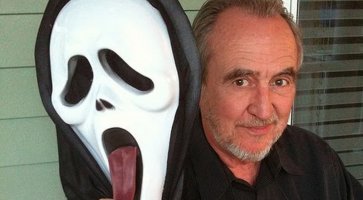 Wes Craven: l'addio di Robert Englund, John Carpenter, Courteney Cox
Il web eslode di fronte alla notizia della scomparsa dell'iconico regista horror. Colleghi e amici lo ricordano su Twitter, tra loro Eli Roth, Sarah Michelle Gellar, David Arquette e persino il profilo ufficiale di The Walking Dead.
Hollywood piange la scomparsa di uno degli autori più creativi e fantasiosi, che ha riscritto le regole del genere horror. Wes Craven se n'è andato improvvisamente, proprio mentre la sua carriera viveva una seconda giovinezza in tv con la produzione della serie Scream e con altri progetti in arrivo.
Leggi anche -
Scream, i 10 momenti migliori della saga cinematografica
Nightmare saga: il mito di Freddy Krueger tra cinema e TV
Di fronte alla triste notizia, il web è stato invaso da messaggi di cordoglio e Twitter ha raccolto il saluto di colleghi, amici e collaboratori del regista. Tra i primi a prendere pubblicamente la parola vi è il grande John Carpenter, altro maestro del terrore, il quale ha scritto: "Sono devastato dopo aver ricevuto questa notizia. Wes è stato un grande amico, un grande regista e un uomo degno. E' una perdita gigantesca. Troppo presto".
Devastated to hear the news. Wes was a great friend, fine director and good man. Giant loss. Much too soon. http://t.co/3XnIn8UNIF

— John Carpenter (@TheHorrorMaster) 31 Agosto 2015
My friend Wes has left us too soon. He was truly an Old School director. I had a great time directing him. I'm... http://t.co/NCeEflbdhO

— John Carpenter (@TheHorrorMaster) 31 Agosto 2015
A ruota arriva il tweet di Robert Englund, storico interprete di Freddy Krueger e compagno d'avventure sul set di Craven. "RIP Wes Craven, mio regista, mio amico. Geniale, gentile, cordiale e divertente uomo. E' un giorno triste per Elm St e per il resto del mondo. Mi mancherà".
RIP Wes Craven, my director, my friend. A brilliant, kind, gentle and very funny man. A sad day on Elm St and everywhere. I'll miss him.

— Robert B. Englund (@RobertBEnglund) 31 Agosto 2015
Poche parole quelle di Kevin Williamson, sceneggiatore di Scream.
Wes. Such a sweet, special man. So many memories...

— Kevin Williamson (@kevwilliamson) 31 Agosto 2015
Regista horror e cinefilo, Eli Roth ricorda uno dei suoi maestri.
R.I.P. to one of my all time heroes who was also truly one of the nicest people I ever had the good fortune to meet. pic.twitter.com/UNisaTRgFn

— Eli Roth (@eliroth) 31 Agosto 2015
If anyone in L.A. can see the moon right now it looks like it's in honor of Wes. Spectacular moon right out of one of his films.

— Eli Roth (@eliroth) 31 Agosto 2015
Anche Roland Emmerich piange la morte di Wes Craven scrivendo: "Ho sempre avuto il più profondo rispetto per @WesCraven e per la sua abilità di trascinare i fan in un'esperienza mozzafiato. Un caloroso abbraccio ai suoi cari".
I've always had the deepest respect for @WesCraven and his ability to take his fans on a thrilling ride. Warmest regards to his loved ones.

— Roland Emmerich (@rolandemmerich) 31 Agosto 2015
Le star di Scream Courteney Cox e Rose McGowan e Sarah Michelle Gellar hanno ricordato con grande affetto Craven e il lavoro sul set svolto con lui. "Oggi è un giorno di lacrime. Un gigante ci ha lasciato" scrive la McGowan. David Arquette ha confessato d aver aperto apposta un account Twitter per ricordare Craven e twitta: "Wes era un grande uomo e lo adoro."
Shedding tears now. A giant has left us. #wescraven #always #liveon pic.twitter.com/t3ituQLgV1

— rose mcgowan (@rosemcgowan) 31 Agosto 2015
Thank you for being the kindest man, the gentlest man, and one of the smartest men I've known. Please say there's a plot twist. #wescraven

— rose mcgowan (@rosemcgowan) 31 Agosto 2015
Today the world lost a great man, my friend and mentor, Wes Craven. My heart goes out to his family. x

— Courteney Cox (@CourteneyCox) 31 Agosto 2015
I had the great privilege of working with #WesCraven one of the kindest most gentle souls, who made great scary films. #RIPWesCraven

— Sarah Michelle (@SarahMGellar) 31 Agosto 2015
Taking a break on a show night to pay respects to @WesCraven. LEGEND.

— The Walking Dead (@TheWalkingDead) 31 Agosto 2015
So we have lost the movie maker, Wes Craven. Sorry to hear it. Thanks to Jason G. and others who brought the... http://t.co/BMkVBvfxVE

— Anne Rice (@AnneRiceAuthor) 31 Agosto 2015
So sad to hear of the passing of my talented friend @wescraven who, before #JamesWan, reinvented the #horror genre ... http://t.co/6lbctDNE7G

— Cary Elwes (@Cary_Elwes) 31 Agosto 2015
@wescraven rest ...knowing your imagination delighted and terrified millions with your extraordinary story telling. Love to your memory

— Henry Winkler (@hwinkler4real) 31 Agosto 2015
Weren't we lucky to have that first Nightmare on Elm Street? Weren't we lucky to have Wes Craven?

— Joe Hill (@joe_hill) 31 Agosto 2015
I wud have no career if it were not for WES CRAVEN. Thank you for believing in me and giving me a chance. #nowords pic.twitter.com/dNseHweJcF

— Jamie Kennedy (@JamieKennedy) 31 Agosto 2015
So sad to hear the news about Wes. An amazing man on set and off and I owe so much to his talents. He will be sorely missed by many...

— Skeet Ulrich (@SkeetMe1) 31 Agosto 2015