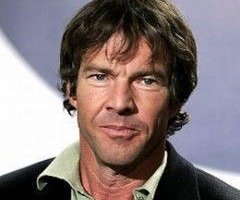 Un segreto per Dennis Quaid
Un thriller venato di suspence per l'attore che in Beneath the Darkness si calerà nei panni di un oscuro impresario di pompe funebri texano.
Il popolare Dennis Quaid è entrato a far parte del cast del thriller indie Beneath the Darkness. La pellicola, diretta da Martin Guigui, è ambientata in Texas ed è incentrata su un adolescente che tenta di rendere noti gli oscuri segreti del proprietario di un'impresa di pompe funebri e della casa in cui vive (Dennis Quaid) considerato da tutti un eroe locale. Nel cast compaiono anche Brett Cullen, Aimee Teegarden, Tony Oller e Stephen Lunsford. La sceneggiatura è firmata da Bruce Wilkinson, che produce il film insieme a Scott Mednick. Le riprese sono attualmente in corso a Austin, nel Texas.
Cresce l'attesa per vedere Dennis Quaid nel biopic politico I due presidenti, dove l'attore interpreta l'ex presidente democratico Bill Clinton. Quaid ha appena concluso le riprese del dramma biografico Soul Surfer e di Footloose, remake del classico teen anni '80.