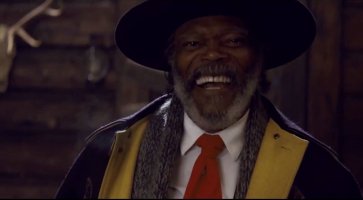 The Hateful Eight: i primi commenti dei critici USA
Nonostante ci fosse un embargo fino al 21 dicembre, online sono apparse le prime considerazioni sull'atteso lungometraggio diretto da Quentin Tarantino.
Alcuni critici americani hanno potuto assistere a un'anteprima di The Hateful Eight oraganizzata da The Weinstein Company. Nonostante fosse stato esplicitamente richiesto di non condividere le proprie opinioni o pubblicare recensioni fino al 21 dicembre, online sono apparsi alcuni tweet in cui si rivelano i primi dettagli sull'atteso film di Quentin Tarantino:
Kristopher Tapley di Variety definisce il lungometraggio favoloso e parla di "un'esplosione di sangue e violenza", annunciando una colonna sonora di Ennio Morricone originale e piena di suspense:
Mike Ryan di Uproxx è invece convinto che The Hateful Eight sia uno di quei film grandiosi alla prima visione e che migliora moltissimo nel rivederlo successivamente, aggiungendo che Jennifer Jason Leigh e Walton Goggins sono grandiosi.
Anne Thompson ha confermato l'ottima performance dei due attori, aggiungendo poi un breve commento al film:
Altri commenti positivi:
Altri critici sembrano invece determinati ad attendere la fine dell'embargo per esprimere la propria opinione più negativa rispetto a quelle emerse fino a questo punto: