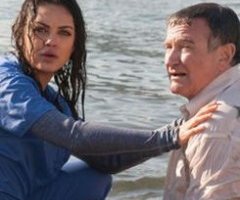 The Angriest Man in Brooklyn: ecco il trailer
Finalmente disponibile il trailer che anticipa la pellicola al cardiopalma interpretata da Robin WIlliams e Mila Kunis.
Ecco distribuito da Lionsgate il primo emozionante trailer dell'atteso The Angriest Man in Brooklyn, dramma diretto da Phil Alden Robinson e interpretato da un supercast che comprende Robin Williams, Mila Kunis, Melissa Leo, la star de Il trono di spade Peter Dinklage e Hamish Linklater.
The Angriest Man in Brooklyn vede protagonista Henry Altmann, un uomo che soffre di emicrania al quale viene erroneamente diagnosticata una forma particolarmente aggressiva di cancro che gli lascia ancora novanta minuti di vita. Che cosa deciderà di fare l'uomo nella sua ultima ora e mezza, mentre la dottoressa (Mila Kunis) cerca di raggiungerlo per informarlo dell'errore?
Trailer - The Angriest Man In Brooklyn