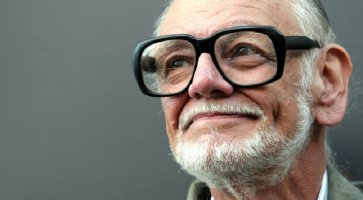 George A. Romero: da Stephen King a Guillermo del Toro, l'ultimo saluto delle star sui social
Dopo la scomparsa dello storico regista, a causa di un tumore ai polmoni, il mondo di Hollywood si è stretto intorno al dolore della famiglia.
George A. Romero il regista de La notte dei morti viventi si è spento oggi all'età di 77 anni per un tumore ai polmoni. La sua mancanza ha lasciato un grande vuoto nel mondo del cinema, è stato uno degli registi più influenti nella storia dell'horror ed è stato amato da chiunque lo ha conosciuto, ha lavorato con lui o semplicemente è cresciuto con i suoi film densi di significato. Oggi su Twitter moltissime celebrità hanno reso omaggio alla sua scomparsa, a partire dai suoi colleghi e fan, da Stephen King a James Gunn, fino a Guillermo del Toro e Eli Roth:
Sad to hear my favorite collaborator--and good old friend--George Romero has died. George, there will never be another like you.

— Stephen King (@StephenKing) 16 luglio 2017
Romero started it. pic.twitter.com/i4dnxi8EFV

— Jordan Peele (@JordanPeele) 16 luglio 2017
Romero has passed away. Hard to find words right now. The loss is so enormous.

— Guillermo del Toro (@RealGDT) 16 luglio 2017
Just heard the news about George Romero. Hard to quantify how much he inspired me & what he did for cinema. Condolences to his family.

— Eli Roth (@eliroth) 16 luglio 2017
RIP #GeorgeRomero. You made me want to make movies, and helped me to find meaning in monsters. Thank you. I love you.

— James Gunn (@JamesGunn) 16 luglio 2017
Damn...rest in peace, George Romero. Every single zombie show/film owes you their gratitude for paving the way in this genre. Thank you. pic.twitter.com/7Z1jYrhXos

— Rahul Kohli (@RahulKohli13) 16 luglio 2017
A fond farewell to charming, legendary zombie king George Romero. 'Martin' is one of my favourite horrors. An honour to have met him. RIP pic.twitter.com/8ZIwjxFrmx

— Mark Gatiss (@Markgatiss) 16 luglio 2017
George Romero was an icon who created a cinematic universe of loosely affiliated sequels forty years before that was a thing
RIP to a genius

— Max Landis (@Uptomyknees) 16 luglio 2017
Here's to the great George Romero, the man who started it all! A true legend and a huge inspiration. Rest In Peace. pic.twitter.com/Vl3TP46L0W

— Robert Rodriguez (@Rodriguez) 16 luglio 2017
Goodbye old bean. It was great to know you.
Come back- any way you can.
https://t.co/HH7HeLw5xZ

— Ted Raimi (@tedraimi) 16 luglio 2017
No one mined the zombie metaphor like Romero. (After he invented it.) No one has come close. RIP & thank you to a Great Film Artist. pic.twitter.com/5RqD8Q8GdE

— Joss Whedon (@joss) 16 luglio 2017
The world has lost a master. Thank you for the inspiration. You changed my life with your art. You will be missed. #georgeromero #dotd

— Zack Snyder (@ZackSnyder) 17 luglio 2017
Continua a seguirci su Facebook, Twitter, Instagram, Youtube, Google+ e Telegram per aggiornamenti, notizie, e curiosità su film e serie TV!