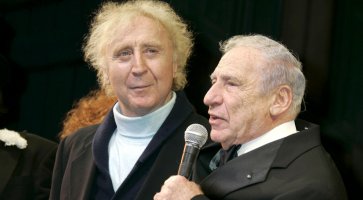 Gene Wilder: da Mel Brooks a Jim Carrey l'addio delle star sui social
Gli amici, i colleghi e i fan dell'attore stanno condividendo i loro omaggi e ricordi.
Le star di Hollywood stanno rendendo omaggio a Gene Wilder, morto all'età di 83 anni a causa di alcune complicazioni dovute all'Alzheimer.
Il suo grande amico e collega Mel Brooks ha scritto su Twitter: "Era uno dei veri grandi talenti della nostra epoca. Ha benedetto ogni film che ha realizzato con la sua magia e mi ha benedetto con la sua amicizia".
Leggi anche: Gene Wilder: da Frankestein a Willy Wonka, 5 ruoli indimenticabili
Gene Wilder-One of the truly great talents of our time. He blessed every film we did with his magic & he blessed me with his friendship.

— Mel Brooks (@MelBrooks) 29 agosto 2016
Eric McCormack, che aveva lavorato con Wilder sul set di Will & Grace, ha dichiarato: "Un genio da cui rubavo costantemente, e uno con cui sono stato onorato ed elettrizzato dalla possibilità di lavorare insieme".
A genius I stole from constantly, and one I was humbled & thrilled to work with. RIP #GeneWilder pic.twitter.com/hCFyET1jji

— Eric McCormack (@EricMcCormack) 29 agosto 2016
Jim Carrey ha scritto: "Era una delle energie più divertenti e dolci che abbia mai assunto forma umana. Se c'è un paradiso lui ha un biglietto dorato". Uzo Aduba ha invece fatto una lista di tutti gli elementi positivi che caratterizzavano Wilder, mentre Jeffrey Tambor ha sottolineato come fosse un artista in grado di ispirare con il suo lavoro.
Ecco alcuni dei ricordi condivisi sui social media:
Gene Wilder was one of the funniest and sweetest energies ever to take a human form. If there's a heaven he has a Golden Ticket. ;^)

— Jim Carrey (@JimCarrey) 29 agosto 2016
RIP Gene Wilder. You will be missed. Say hello to Gilda and Richard for us. #EverLastingGobstopper pic.twitter.com/XAWAd9FU9A

— Orlando Jones (@TheOrlandoJones) 29 agosto 2016
"Good Day Sir!"
RIP Gene Wilder

— Ricky Gervais (@rickygervais) 29 agosto 2016
The genius, the talent, the actor, the original, the artist, the storyteller, the creative, the iconic, the great, great, great Gene Wilder.

— Uzo Aduba (@UzoAduba) 29 agosto 2016
Gene Wilder--
There are no words--
Artist
Inspirer
and
Hilarious
just
Brilliantly brilliant

— Jeffrey Tambor (@jeffreytambor) 29 agosto 2016
Thank you Gene Wilder for the wonderful, the weird, the pure imagination. One of my greatest heroes.

— josh groban (@joshgroban) 29 agosto 2016
He was always able to make us smile, and that is no small feat. Rest with the stars, Gene Wilder. pic.twitter.com/kxis66bIGd

— George Takei (@GeorgeTakei) 29 agosto 2016
A moment of silence for the master of the comedic pause.
Gene Wilder: funny doing something & funny doing nothing. pic.twitter.com/d5iySZVll6

— edgarwright (@edgarwright) 29 agosto 2016
R.I.P to the incomparable Gene Wilder. You filled so many childhoods, mine included, with wonder, laughter & joy. Thank you.

— Zelda Williams (@zeldawilliams) 29 agosto 2016
RIP #GeneWilder absolute master. Brilliant in so many ways. His life's work is timeless and everlasting. pic.twitter.com/hYHYk8hm4h

— John Cena (@JohnCena) 29 agosto 2016
Gene Wilder was the best.

— Jimmy Kimmel (@jimmykimmel) 29 agosto 2016
No, not Gene Wilder. Rest in peace.

— Ben Falcone (@benfalcone) 29 agosto 2016
RIP legend Willy Wonka star Gene Wilder dies aged 83 https://t.co/5EE6lW2m9j

— Tom Green (@tomgreenlive) 29 agosto 2016