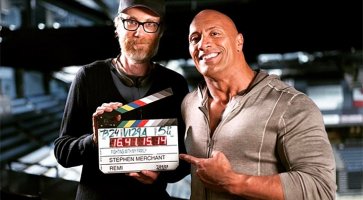 Fighting With My Family, il finale girato alla presenza dei fan del wrestling
Dwayne Johnson, produttore e interprete del film, ha annunciato che il pubblico presente all'evento sportivo in programma a Los Angeles assisterà ai ciak dell'epilogo del lungometraggio.
Le riprese del film Fighting With My Family sono ufficialmente iniziate e Dwayne Johnson ha condiviso le prime immagini dal set, oltre ad aver annunciato che il cast girerà stasera la sequenza del finale del lungometraggio allo Staples Center di Los Angeles, al termine degli scontri previsti sul ring, invitando tutti i fan presenti a partecipare con entusiasmo all'epico match che verrà realizzato.
Il progetto sarà scritto e diretto da Stephen Merchant (The Office) e si baserà sulla vera storia della star WWE Paige e della sua famiglia di wrestler professionisti.
Il film è ispirato al documentario di Channel 4 intitolato The Wrestlers: Fighting With My Family. Nel ruolo di Paige ci sarà Florence Pugh, mentre Jack Lowden sarà suo fratello Zak. Fanno parte del cast anche Lena Headey, Nick Frost e Vince Vaughn.
Continua a seguirci su Facebook, Twitter, Instagram, Youtube, Google+ e Telegram per aggiornamenti, notizie, e curiosità su film e serie TV!