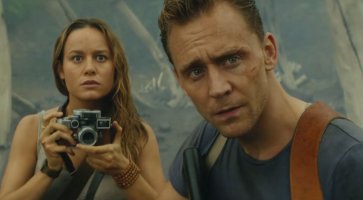 Box Office USA: Kong: Skull Island è il re del weekend!
Il mostruoso Kong scalza dalla vetta della top ten il dolente Logan - The Wolverine.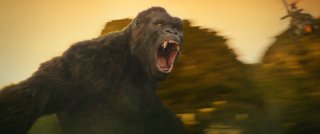 Warner Bros. Pictures e Legendary festeggiano gli incassi di Kong: Skull Island. L'imponente monster movie debutta in prima posizione al box office americano incassando oltre 61 milioni da 3.846 sale, con una media per sala di 15.865 dollari. Nel resto del mondo il blockbuster interpretato da Tom Hiddleston, Samuel L. Jackson e dal premio Oscar Brie Larson ha raccolto 81,6 milioni arrivando a un ricco totale di 142,6 milioni, 21, 4 dei quali in 674 sale IMAX.
Leggi anche: Kong: Skull Island, Animali giurassici e dove trovarli
L'energico King Kong scalza dalla vetta della classifica Logan - The Wolverine. La pellicola di James Mangold scivola al secondo posto portandosi a casa altri 37,9 milioni che gli permettono di raggiungere un totale di 152,7 milioni in due settimane. Nel resto del mondo il film che dà l'addio al mutante Wolverine, interpretato per oltre 17 anni dalla star Hugh Jackman, aggiunge 70 milioni arrivando a una cifra globale di 438,3 milioni.
L'horror Universal Pictures e Blumhouse Productions Scappa - Get Out continua a riscuotere l'attenzione del pubblico e difende la terza posizione con altri 21,1 milioni che lo portano a un totale di 111 milioni raccolti in tre settimane.
Scivola in quarta posizione il dramma a tema religioso The Shack, con Sam Worthington e Octavia Spencer. Basato su un romanzo cristiano del 2007 di William P Young, il film ha incassato altri 10,1 milioni che lo portano a un totale di 32,3 milioni.
Alla quinta settimana di permanenza nella top ten, l'hit Lego Batman - Il film è ancora quinto e incassa altri 7,8 milioni per un totale di 159 milioni.
Box office week-end
---
---
Vai alla classifica completa
Continua a seguirci su Facebook, Twitter, Instagram, Youtube, Google+ e Telegram per aggiornamenti, notizie, e curiosità su film e serie TV!