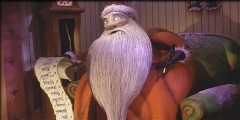 La colonna sonora di Nightmare Before Christmas
Danny Elfman compone il soundtrack di uno dei lungometraggi più riusciti di Tim Burton.
Per la colonna sonora di uno dei suoi lungometraggi più riusciti, il regista Tim Burton si avvale della collaborazione di un pezzo da novanta, quale è il compositore Danny Elfman.
Il disco si compone di dieci canzoni e di dieci temi ideati da Elfman, un artista che in passato fu cantante del popolare gruppo Oingo Boingo (il maggior successo fu Weird Science del 1985).
La narrazione ed i paesaggi musicali risultano perfettamente integrati.
Fra i brani vanno segnalati This Is Halloween, la canzone che introduce la storia, Jack's Lament, dove Jack esprime la propria frustrazione per la vita, Town Meeting Song, che introduce gli abitanti di Halloweentown, Kidnap The Sandy Claws, che mostra il piano per rapire Babbo Natale, Sally's Song, una tenera ballata d'amore, Finale/Reprise, eseguita da Jack, Sally ed i cittadini di Halloweentown.
Jack Skeletron nella versione italiana venne doppiato da Renato Zero, il quale canta anche cinque brani nell'adattamento italiano del soundtrack.

Soundtrack
---

Nightmare Before Christmas

Data d'uscita:

29 Ottobre 1993

Etichetta:

Walt Disney
---
3.
<b>This Is Halloween</b>
5.
<b>Doctor Finkelstein/In The Forest</b>
7.
<b>Town Meeting Song</b>
8.
<b>Jack And Sally Montage</b>
9.
<b>Jack's Obsession</b>
10.
<b>Kidnap The Sandy Claws</b>
11.
<b>Making Christmas</b>
13.
<b>Oogie Boogie's Song</b>
15.
<b>Christmas Eve Montage</b>
18.
<b>Finale/Reprise</b>