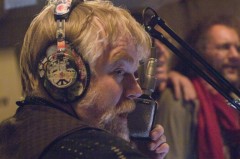 La colonna sonora di I Love Radio Rock
Motown Sound e sixties British Pop sono i protagonisti della colonna sonora del film che narra le vicende della prima "radio pirata" della storia.
Il 28 Marzo 1964 Radio Caroline iniziò le proprie trasmissioni dal largo delle coste britanniche, per aggirare l'intolleranza del governo inglese che intendeva metterle fuori legge.
Nel giro di un paio d'anni Radio Caroline era seguita da venticinque milioni di ascoltatori, antesignana dell'eroico mondo delle "radio libere" ben rappresentato già da altri film di casa nostra (Radiofreccia, Lavorare con lentezza, I cento passi), e diventa ora protagonista anche del divertente I Love Radio Rock, nelle sale italiane dal prossimo 12 giugno.
Il regista Richard Curtis in The Boat That Rocked (questo il titolo originale della pellicola) ci racconta uno stralcio dell'avventura di Radio Caroline (per l'occasione ribattezzata Radio Rock), la prima emittente pirata della storia, e lo fa non solo attraverso i personaggi che animavano le trasmissioni (con piglio fresco, vivace e spesso irriverente) ma anche attraverso le sue canzoni preferite dell'epoca, raccolte nel doppio cd che funge da preziosa colonna sonora.
Dentro ci troviamo alcuni fra i maggiori esponenti della British Invasion del periodo (The Who, The Kinks), del Motown sound (The Supremes, Otis Redding, Smokey Robinson, Isley Brothers, Martha & The Vandellas), un paio di inarrivabili chitarristi (Jimi Hendrix, Jeff Beck), una manciata di sixties pop (dalla spensieratezza dei Beach Boys alla malinconia di Moody Blues e Procul Harum), ed altri super programmati del calibro di Cat Stevens, Turtles, Troggs ed Hollies.
Le canzoni non sono certo delle seconde scelte, ma grandi classici di quegli anni: da My Generation ad I Feel Free, da These Arms Of Mine a A Whiter Shade Of Pale, da Nights In White Satin a Father And Son.
Uniche note apparentemente fuori contesto sono la contemporanea Duffy che propone comunque una cover di Stay With Me Baby, e David Bowie che compare con la patinata Let's Dance.
Il regista durante le fasi di preparazione del film ha distribuito agli attori degli i-pod con selezioni musicali personalizzate, per consentire loro di entrare adeguatamente nel clima dell'epoca, quando la musica era davvero un simbolo di trasgressione e rivoluzione.

Soundtrack
---

The Boat That Rocked: Original Soundtrack

Data d'uscita:

30 marzo 2009

Etichetta:

Mercury
---
2.
All Day And All Of The Night
4.
Judy In Disguise (With Glasses)
8.
This Guy's In Love With You
16.
I've Been A Bad Bad Boy
5.
A Whiter Shade Of Pale
9.
She'd Rather Be With Me
13.
Nights In White Satin
14.
You Don't Have To Say You Love Me
17.
This Old Heart Of Mine (Is Weak For You)