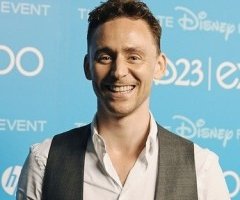 Trilli e la nave pirata: Tom Hiddleston bucaniere canterino
Il backstage del doppiaggio del cartoon ci mostra la star di Loki e Only Lovers Left Alive impegnata a cantare.
E' un grande attore, è bello, atletico, una vera e propria... 'divinità'. E ora, grazie a Disney, sappiamo che è anche un bravo cantante. La star di Thor Tom Hiddleston ha da poco concluso il doppiaggio di Trilli e la nave pirata (in originale The Pirate Fairy), cartoon che uscirà direttamente in versione homevideo il 1 aprile. L'attore inglese ha dato la sua voce al personaggio di James, giovane mozzo in forza su una nave pirata diretta all'Isola Che Non C'è. Qui James incontrerà una fata di nome Zarina (Christina Hendricks) e andrà incontro al suo destino diventando il futuro Capitan Uncino.
Trilli e la nave pirata vede protagonista la fata Campanellino (Mae Whitman), costretta a condurre le Fate di Pixie Hollow in una pericolosa avventura per recuperare la Polvere Blu delle Fate rubata da Zarina che, dopo il furto, si è unita ai pirati di Skull Rock. Nel video pubblicato di seguito viene svelato il dietro le quinte del doppiaggio e troviamo Tom Hiddleston intento a cantare nei panni di James.
Backstage 'Tom Hiddleston' - The Pirate Fairy
Recommended by
Ads by Google
Watch Free Movies Now Watch 1000s of Movies Free! Download Now For Movies & Showtimes www.filmfanatic.com
Prezzi Traslochi Confronta 5 Preventivi Gratuiti e Scegli la Migliore della Tua zona ! preventivi.it/Traslochi
Lenti a Contatto Online Prova le 1 DAY ACUVUE® TruEye®. Per te un Campione in Omaggio! acuvue.it/Lenti-a-Contatto
Latest Videos in Family
'The Tom and Jerry Show" Exclusive Clip
'The Tom and Jerry Show" Exclusive Clip
'My Little Pony Friendship Is Magic': Sneak peek!
See More
Advertisement
Photos
'DWTS': Sizing up the season 18 cast portraits
SXSW 2014: Best of the fest through your lens!
26 best cult TV shows ever
10 most criminally underrated TV shows
10 most criminally underrated movies
10 most criminally underrated albums
Kate's Time to Shine
Latest News
'Dancing With the Stars' recap: A new hope?
'Bates Motel': Carlton Cuse on this week's big twist
'Teen Wolf' post-mortem: (Spoiler!) talks exit
'Walking Dead' showrunner: Inside Sunday's shocker
'How I Met Your Mother' recap: 'Gary Blauman'
'The Voice' recap: Sing what U want
'DWTS': Sizing up the season 18 cast portraits
'Grimm' fairy tale comes true for college student
Most Commented
Most Popular
'The Walking Dead:' 2603
'The Big Bang Theory' renewed for three more years 509
Look at the Flowers 461
'Dancing With the Stars': Season 18 is liiiive! 357
'The Walking Dead': Robert Kirkman on why Sunday's episode is the one you 'absolutely' have to watch 356
Also Check Out
NickMom
Add This To The List of "Not Quite Bad Words You Still Don't Want Your Kids Saying"
No! You'll Go to College and Get a Good Job Like All the Other Llamas!
More from NickMom
Real Simple
How to Find a Cheap Gym Membership
How to Save Money at Your Doctor's Office
More from Real Simple
More From the Web
Are Hollywood's Futuristic Thrillers Trying To Warn Us? (Learnist)
Beware the Giraffes in Your Data! (Optimove)
How to Find the Best Content to Create (TrackMaven)
12 of the most beautiful sailing destinations in Europe (Global Grasshopper)
To Get Young Women Into Tech, Focus on Successes (Forbes)
TV Recaps
Tue, Mar 18 | NBC
The Blacklist
By JoJo MarshallComments 1
Tue, Mar 18 | ABC
Dancing With the Stars
By Annie BarrettComments 13
Tue, Mar 18 | NBC
The Voice
By Marc SnetikerComments 13
Tue, Mar 18 | TNT
Dallas
By Mandi BierlyComments 3
Mon, Mar 17 | AMC
The Walking Dead
By Maricela GonzalezComments 461
Mon, Mar 17 | Bravo
The Real Housewives of Atlanta
By Jodi WalkerComments 140
Movie Calendar
January 17 Jack Ryan: Shadow Recruit
Ride Along
January 24 I, Frankenstein
February 7 The Monuments Men
The Lego Movie
Vampire Academy
February 12 Robocop
February 14 About Last Night
February 21 The Wind Rises
February 28 Son of God
Non-Stop
March 7 The Grand Budapest Hotel
Mr. Peabody & Sherman
300: Rise of an Empire
March 14 Need for Speed
Veronica Mars
March 21 Muppets Most Wanted
Divergent
March 28 Bad Words
Noah
April 4 Captain America: The Winter Soldier
April 11 Rio 2
St. Vincent De Van Nuys
Sabotage
April 16 Heaven Is for Real
April 18 Transcendence
April 25 The Other Woman
For No Good Reason
Walk of Shame
Powered by WordPress.com VIP
More from Our Partners
Johnny Cash's Lost LP
Music Criticism Has Gone to Hell
From Gossip Girl to Risqué Rocker
Not the Next 'Hunger Games'
Hollywood's Anti-Vaxx All-Stars
Walking Dead's Most Brutal Episode
Numbers Behind the Great Flood
More from TheDailyBeast.com
The Voice: First Night of Battle Rounds Includes Strategic Steals
RHOBH Reunion: The Knockout Moments from Round One
Dancing with the Stars Premiere: How Did Meryl Davis Fare Against Charlie White?
Jason Biggs: My Son Changed Me Overnight
Jeremy Roloff Engaged to Audrey Mirabella Botti
RHOBH Reunion Sneak Peek: Kim Richards and Lisa Vanderpump Go Head-to-Head
Boston Marathon Bride-to-Be: I've Got the Dress - and a New Perspective on Life
More from People.com
Katy Perry Is Still Confused By The Whole Feminism Thing
Gisele Bundchen Does Yoga On The Beach At Sunset
Here's Farrah Abraham's Second Attempt At Overly Auto-Tuned Pop Music
Celebrities React To L'Wren Scott's Death
Mick Jagger 'Devastated' By Longtime Girlfriend's Death
Tom Cruise's Son Says Relationship With Nicole Kidman Is 'Solid'
Celebrities Can't Stop Tweeting About Los Angeles Earthquake
More from HuffingtonPost.com
Advertisement
Get Instant Access to this Week's Issue!
Entertainment Weekly is Available:
In This Week's Issue
This Week's Cover: The Criminally Underrated Orphan Black. If you've seen it, you're hooked. If you haven't, get ready to be obsessed.
Criminally Underrated: Music: Fred Armisen Shares His Favorite Unsung Albums. Go ahead, fan out on the Portlandia star and Late Night With Seth Meyers bandleader's picks.
*Disney's New MVPs: Frozen's Anna and Elsa are the theme parks' Most Valuable Princesses - just don't try to meet them.
Choose an Option Below for Instant Access
Subscribe to EWDigital Edition included. Learn more.
Get the Digital Edition Click for full list of compatible devices.
Entertainment Weekly
In partnership with CNN
Copyright © 2013 Entertainment Weekly Inc. All rights reserved.
Contact Us
Staff
Jobs at Time Inc.
Advertise
Privacy Policy
Your California Privacy Rights
Ad Choices
Terms of Service
Subscribe
Give a Gift
Site Map