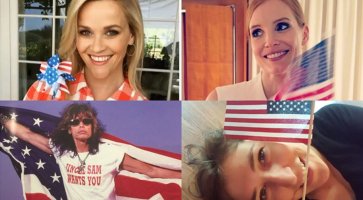 4 luglio, da Jessica Chastain a Star Trek, social a stelle e strisce
Piscina, campagna, mare, ecco dove le star hanno festeggiato l'anniversario dell'Indipendenza americana.
L'anniversario della Dichiarazione d'Indipendenza che segnò la nascita dell'America come nazione indipendente è una delle festività più sentite negli USA. Inevitabile che le star festeggino, ognuna a sua modo, l'evento tra mare, piscine, pranzi in famiglia, gite e fuochi d'artificio. Il tutto rendendo partecipi anche i fan via social media. Ecco una carrellata di celebrazioni per scoprire cosa hanno combinato ieri Reese Witherspoon, Jessica Chastain, Amy Schumer, Mark Wahlberg e tutti gli altri.
A Message from Litchfield Corrections. #FourthofJulyhttps://t.co/qVTGtN6VB9

— Orange Is the New... (@OITNB) 4 luglio 2016
Starfleet embraces freedom, no matter where you go in the galaxy. pic.twitter.com/HWwZUAwQy4

— Star Trek (@StarTrekMovie) 4 luglio 2016
Una foto pubblicata da Miley Cyrus (@mileycyrus) in data: 4 Lug 2016 alle ore 13:08 PDT
Una foto pubblicata da Mark Wahlberg (@markwahlberg) in data: 4 Lug 2016 alle ore 08:19 PDT
Una foto pubblicata da @amyschumer in data: 4 Lug 2016 alle ore 14:14 PDT
Un video pubblicato da Ashley Tisdale (@ashleytisdale) in data: 4 Lug 2016 alle ore 10:35 PDT
Today we celebrate 240 years of American independence. Happy 4th of July! pic.twitter.com/EltkNZqrZZ

— Bernie Sanders (@BernieSanders) 4 luglio 2016
HOPE YOU'RE CELEBRATING TODAY W/ UNCLE SAM, AUNT PAM, & THE WHOLE DAMN ((FAM))...HAPPY 4TH TO RED, WHITE AND YOU... pic.twitter.com/NZqWVPBXXq

— Steven Tyler (@IamStevenT) 4 luglio 2016
Happy 4th. #small #town #America #paradepic.twitter.com/hKNx2Sr3Ze

— Elizabeth Banks (@ElizabethBanks) 4 luglio 2016
What better way to celebrate the 4th... than to announce our 4th family member!!! 2 weeks ago we met our beautiful daughter Violet #Happy4th

— John Krasinski (@johnkrasinski) 4 luglio 2016
Happy 4th of Julypic.twitter.com/OfEx1cokow

— Heidi Klum (@heidiklum) 4 luglio 2016
Continua a seguirci su Facebook, Twitter, Instagram, Youtube, Google+ e Telegram per aggiornamenti, notizie, e curiosità su film e serie TV!