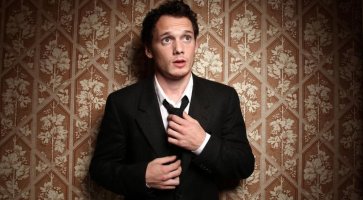 Anton Yelchin: l'addio del cast di 'Star Trek' e delle altre star
I colleghi Zachary Quinto, John Cho, il regista Justin Lin e tutte le altre star che hanno lavorato con Yelchin hanno espresso il proprio dolore per la scomparsa prematura dell'attore.
La morte improvvisa di Anton Yelchin a causa di un incidente d'auto ha sconvolto il mondo di Hollywood. Dopo lo shock iniziale, le star si sono riversate sui social media per onorare la memoria dell'attore, scomparso a soli 27 anni schiacciato dalla sua auto di fronte alla sua abitazione nella California del Sud.
Leggi anche: Anton Yelchin, da Star Trek a Like Crazy: 10 ruoli indimenticabili
Tra i primi a salutare l'attore e a mostrare il proprio cordoglio i compagni di set di Star Trek Beyond. La pellicola, terzo capitolo del reboot cinematografico della saga galattica ad opera di Bad Robot, vedeva ancora una volta Yelchin nei panni di Chekov. Il pubblico potrà vedere per l'ultima volta l'attore nel film che approderà nei cinema italiani il 21 luglio. Zachary Quinto, interprete di Spock, ha scritto su Instagram: "Nostro amico. Nostro compagno. Nostro Anton. Una delle persone più aperte e più curiose intellettualmente che abbia mai avuto il piacere di conoscere. Così pieno di talento e generoso nell'animo."
John Cho, anche lui nel franchise, si dichiara distrutto e al cordoglio si aggiunge il regista della pellicola, Justin Lin.
I loved Anton Yelchin so much. He was a true artist - curious, beautiful, courageous. He was a great pal and a great son. I'm in ruins.

— John Cho (@JohnTheCho) 19 giugno 2016
Still in shock. Rest in peace, Anton. Your passion and enthusiasm will live on with everyone that had the pleasure of knowing you.

— Justin Lin (@trailingjohnson) 19 giugno 2016
Chris Pine, che interpreta il Capitano Kirk, non è sui social media e non ha ancora diramato un comunicato, ma al suo posto si è fatto sentire l'originale Capitano Kirk William Shatner che ha postato un tweet di condoglianze.
Sad news for such a talented young man. Condolences to the family of Anton Yelchin.

— William Shatner (@WilliamShatner) 20 giugno 2016
La voce di J.J. Abrams, regsta dei primi due capitoli di Star Trek e produttore della saga, ha scritto di suo pugno un commovente messaggio:
"Anton, eri brillante. Eri gentile. Eri divertente, e avevi un enorme talento. Non sei stato con noi abbastanza a lungo. Ci mancherai."
19 giugno 2016
Today we mourn the passing of Anton Yelchin. He was beloved by so many and he will missed by all. pic.twitter.com/POChZ2XwyI

— Star Trek (@StarTrekMovie) 19 giugno 2016
We're saddened to report the passing of Anton Yelchin, best known as Chekov @StarTrekMovie https://t.co/dgpY0gSuem pic.twitter.com/EXMCAJsKgx

— Star Trek (@StarTrek) 19 giugno 2016
I can't believe it , I m fckn hurting bad !

— Karl Urban (@KarlUrban) 19 giugno 2016
Devastated to hear about the brilliant Anton Yelchin. He was thoughtful, kind, and gifted. My thoughts and prayers are with his family.

— Chris Evans (@ChrisEvans) 19 giugno 2016
This is unreal. Anton Yelchin is such a talent. Such a huge loss.

— Anna Kendrick (@AnnaKendrick47) 19 giugno 2016
I was hoping this wasn't true. Such a talented young actor taken way too soon. Very sad. https://t.co/uaRRTJIq2w

— Michael Dorn (@akaWorf) 19 giugno 2016
Terrible news about Anton Yelchin, crazily talented actor gone too soon.

— Stephen King (@StephenKing) 19 giugno 2016
Anton Yelchin was a bright, brilliant talent, and a truly kind person. I was so taken by him, and won't ever forget his sweet smile. RIP

— olivia wilde (@oliviawilde) 19 giugno 2016
Devastated about Anton Yelchin. He was a very sweet kid. My heart goes out to his family

— Hank Azaria (@HankAzaria) 19 giugno 2016
We are saddened to hear of the passing of Anton Yelchin and offer our heartfelt condolences to his family and loved ones.

— San Diego Comic-Con (@Comic_Con) 19 giugno 2016
Crestfallen to hear the news of Anton Yelchin. He was a superb actor and I always looked forward to the work he did. He will be missed.

— Darren Criss (@DarrenCriss) 19 giugno 2016
Absolutely devastated to hear about Anton Yelchin. He was such a gifted, natural actor & a deeply kind man. My thoughts are with his family.

— Tom Hiddleston (@twhiddleston) 19 giugno 2016
Anton Yelchin was one of my best friends. Can't say anything that conveys what this feels like

— Kat Dennings (@OfficialKat) 19 giugno 2016
So very sad to hear the awful news about Anton Yelchin. Such a fine actor with his whole career ahead of him. He will be remembered always.

— Mark Hamill (@HamillHimself) 19 giugno 2016
So sad to hear about Anton Yelchin. I was a HUGE fan. Terrible news. RIP

— Logan Lerman (@LoganLerman) 19 giugno 2016
Just heard about #AntonYelchin what a great talent and good young man. Gone far too soon... #GodBless Terrible loss. You I'll be missed.

— Chad Michael Murray (@ChadMMurray) 19 giugno 2016
Leggi anche: Anton Yelchin: il ricordo commosso del regista di 'Green Room'