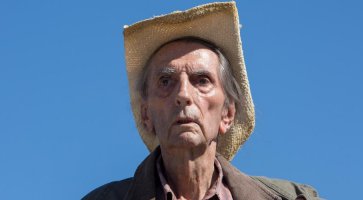 Harry Dean Stanton: da David Lynch a Stephen King, l'ultimo saluto delle star sui social
Anche Joss Whedon e Olivia Wilde si sono uniti per un tributo al famoso attore, venuto a mancare nella giornata di ieri a 91 anni.
Nella giornata di ieri ci ha lasciati Harry Dean Stanton, uno dei volti più noti del cinema americano, interprete di numerosi cult televisivi e cinematografici. Stanton aveva 91 anni e di recente era apparso nel revival de I segreti di Twin Peaks. Il suo lunghissimo curriculum vanta pellicole come Nick mano fredda, Il padrino - Parte seconda, Alien, Bella in rosa, 1997: Fuga da New York, ma anche partecipazioni in serie televisive come Big Love. Una delle sue interpretazioni più celebrate però, resta quella in Paris, Texas, del 1984, lo stesso anno in cui recitò in Repo Man.
Guarda il video: In memoriam: l'ultimo saluto ai personaggi che ci hanno lasciato nel 2016 (VIDEO)
Oggi le star hanno espresso il loro dispiacere per la scomparsa dell'attore, primo tra tutti David Lynch:
A statement from @DAVID_LYNCH on the passing of the great Harry Dean Stanton: pic.twitter.com/7HaZUQQsmT

— SHO_PR (@SHO_PR) 15 settembre 2017
Sad to say goodbye to the incomparable Harry Dean Stanton- so profoundly authentic in every role he inhabited. #RIP pic.twitter.com/6zoEwZmIUa

— Mark Hamill (@HamillHimself) 16 settembre 2017
Harry Dean Stanton was a wonderful man, kind and full of humor. He was also a great actor. Goodbye, Harry Dean. Rest in peace.

— John Carpenter (@TheHorrorMaster) 15 settembre 2017
RIP to the legendary Harry Dean Stanton. Impossible to cover his legacy in brief but here's a few favs: 'Alien', 'Paris Texas', 'Repo Man'. pic.twitter.com/tKglu0Bemv

— edgarwright (@edgarwright) 15 settembre 2017
Never a dull moment.
Can't imagine telling him to rest. pic.twitter.com/N2gpgKGBeV

— Joss Whedon (@joss) 15 settembre 2017
Harry Dean Stanton was the definition of cool. On Alpha Dog, he wouldn't leave a room w/o saying, "Love ya. Mean it." Such a great guy. RIP

— olivia wilde (@oliviawilde) 15 settembre 2017
Harry Dean Stanton had the best line in CHRISTINE: "I'm selling' this shithole and buyin' a condo." Rest in peace, HD. You were great.

— Stephen King (@StephenKing) 15 settembre 2017
Goodnight, Harry. Follow the light. It's right there waiting for you.#HarryDeanStanton

— Mark Frost (@mfrost11) 16 settembre 2017
Continua a seguirci su Facebook, Twitter, Instagram, Youtube, Google+ e Telegram per aggiornamenti, notizie, e curiosità su film e serie TV!