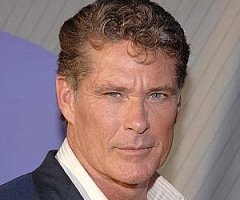 David Hasselhoff e Kelly Brook in Keith Lemon: The Movie
I due attori del piccolo schermo parteciperanno alla commedia firmata dall'inglese Leigh Francis.
La star del piccolo schermo David Hasselhoff e la bella Kelly Brook si sono uniti al cast di Keith Lemon: The Movie, pellicola scritta dal comico di culto inglese Leigh Francis, protagonista degli show Bo' Selecta! e Keith Lemon's World Tour. Il duo affiancherà Verne Troyer nella commedia diretta da Paul Angunawela e prodotta da Mark Huffam, Simon Bosanquet e Aidan Elliott per la Generator Entertainment. Al centro del plot troveremo il personaggio di Keith Lemon, impegnato a realizzare il suo sogno di diventare un imprenditore di successo. Keith abbandona Leeds per trasferirsi a Londra dove diventerà miliardario, perderà in un colpo solo tutto il denaro guadagnato, ma alla fine imboccherà il cammino verso la redenzione.
A breve vedremo David Hasselhoff al cinema nel B-movie horror Piranha 3DD. Di recente Kelly Brook ha partecipato alle serie tv Metal Hurlant Chronicles e Skins.