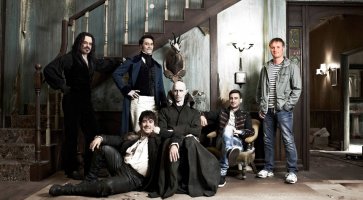 What We Do In The Shadows: ecco i primi sei minuti
Ecco l'incipit del mockumentary incentrato sulle vite di tre vampiri alle prese con problemi più o meno ordinari nella moderna Nuova Zelanda.
Dopo il Midnight Madness Award conquistato al Toronto Film festival, grande è la curiosità intorno a What We Do in the Shadows, mockumentary horror neozelandese firmato dai creatori di Flight of the Conchords Taika Waititi e Jemaine Clement. Oggi approdano su Youtube i primi sei minuti del film, che potete visionare nel video che trovate di seguito.
Ambientato in Nuova Zelanda, What We Do in the Shadows narra le esistenze quotidiane dei vampiri Viago (Taika Waititi), Deacon (Jonathan Brugh) e Vladislav (Jemaine Clement) mentre tentano eroicamente di contrastare i problemi della quotidianità. I tre dovranno trovare un appartamento in affitto, trovare i soldi per pagare le bollette, competere coi vicini, ma a complicare le questioni ordinarie vi è la loro natura, che richiede la presenza di sangue fresco. In più dovranno vedersela con l'arrivo di cacciatori di vampiri e vampiri hipster.