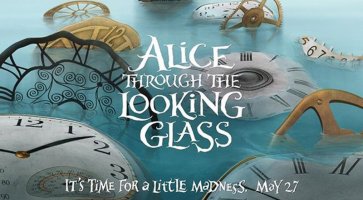 Alice Through the Looking Glass: Disney lancia un mini-teaser
Ecco le prime immagini di Alice, interpretata da Mia Wasikowska, pronta a una nuova avventura fiabesca.
Oggi è il giorno perfetto per... cadere! Parola di Walt Disney Pictures. Lo studio ha appena lanciato via social media un brevissimo teaser di Alice in Wonderland: Through the Looking Glass che mostra la protagonista Mia Wasikowska in caduta libera.
Today is a very important date. It's Time to fall https://t.co/lfdJF0GZZ0

— Walt Disney Studios (@DisneyStudios) 1 Novembre 2015
In Alice in Wonderland: Through the Looking Glass, ispirato al classico di Lewis Carroll Attraverso lo specchio, rivedremo Johnny Depp nei panni del Cappellaio Matto. Riconfermati anche Anne Hathaway, Helena Bonham Carter, Matt Lucas, Sacha Baron Cohen, Stephen Fry, Toby Jones, Alan Rickman, Michael Sheen, Timothy Spall, Paul Whitehouse e Barbara Windsor. Rhys Ifans si calerà nei panni di Zanik Hightopp, padre del Cappellaio Matto. Il sequel fiabesco, diretto da James Bobin, è atteso nei cinema il 27 maggio 2016.